12-Week Pro Wrestling Training Program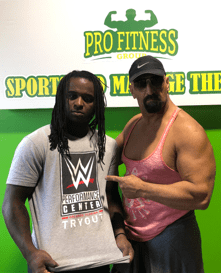 Classes start every three months on September 1st, December 1st, March 1st and June 1st.
We look forward to welcoming you aboard, working with you and hoping your journey into pro wrestling training takes you down the same path and success as the very first student to join our school, Sidney Iking Bateman who after only four months of training on October 16, 2019, signed with the WWE/NXT as The Trickster. Are you next?
A world-renowned professional wrestling training camp with old traditions and respected legends, at the Workforce Fitness Performance Center you will be under the guidance of:
Hall of Famer & Former WWF Training Center Head Coach, Psychology Coach, the 46 Time World Champion Leo "The Legend" Burke
Amateur Wrestling Coach and the nephew of Bret "The Hitman" Hart, Torrin Rex Hart
In-Ring Handler & Longest Running Can-Am Heavyweight Champion "Vinnie Fever"
Showmanship & Intensity Coach the undefeated UWN Heavyweight Champion of the World & Former Gladiator, The Beast From The Middle East,  Ali Farhat.
Our 12-Week Professional Wrestling Training Program:​
What you will be learning over your 12 weeks of training with our Instructors.
KEEPING YOUR HEAD IN THE GAME: THE PSYCHOLOGICAL ASPECT OF WRESTLING
Because of the one-on-one nature of wrestling and the relatively brief length of a match, the mental approach to competition and the commitment you need to succeed are unique. The following list provides some keys to winning the mental game as a wrestler: