12-Week Pro Wrestling Training Program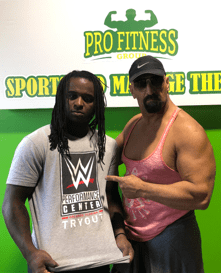 #1 – Pro Wrestling has ABSOLUTELY NOTHING to do with Wrestling!
#2 – This is the EVOLUTION of Sports Entertainment Training!
#3 – You are about to learn the ART of Audience Engagement!
Now that I have your ATTENTION, let me explain what PRO WRESTLING IS & what PRO WRESTLING IS NOT & see if this is something you could see yourself doing for the REST OF YOUR LIFE! and make sure you don't spend the next 20, 30 or 40 + YEARS of YOUR LIFE in some MARK JOB with nothing more than a heart full of REGRET to Show For It!
First Off, if you are NOT INTERESTED in LEARNING the SAME OLD SHIT!, being done the SAME OLD WAY! it has been taught for the last 100 YEARS then LISTEN UP!
The WFPC has Systematically Identified, Analyzed & Removed Several Locks, Holds, Strikes & Spots that look Fake, Scripted & Choreographed, like a Forearm to the Head, European Uppercut or a Leapfrog, and replaced them with MORE BELIEVABLE and REALISTIC VARIATIONS of spots such as theInternational or Tackle, Drop Down, Leapfrog and replaced it with a Tackle, Gator Roll, Lou Thesz or Spin Buster, which is more believable than having a worker drop to his belly while his opponent runs over him only to pop up for a Leapfrog like that wasn't the most RIDICULOUS thing ever to be sold as realistic!
The WFPC also recognized that workers look Awkward & Unorthodox when delivering a simple kick to the midsection and found the cause to be the age-old tradition of teaching both Right & Left handed people to kick with their Right Foot while trying to awkwardly stomp with their weaker or non-dominant Left Foot, So we began teaching Right Handed People to Stomp with their Right Foot and kick with their Left and Left Handed People to kick with their Right Foot and Stomp with their Left or Dominant Foot making it much more believable.
The WFPC also Consciously Teaches Hiding the Stomp in the Forward Motion of a Strike so the fans don't see your feet go Up & Down in the same spot, rather the stomp is concealed as you leap forward to throw a strike and not so obvious to the naked eye.
The WFPC has also taken it upon itself to conduct a Root Cause Analysis of some of the BIGGEST STARS in the INDUSTRY such as Stone Cold Steve Austin, Hulk Hogan & Goldberg, and compared their success with more technically sound workers such as Lance Storm, Tyson Kid & Dean Malenco, and found that the #1 Major Difference in their performances was the number of times they Engaged the Audience, and that is when the WFPC Evolved its Pro Wrestling & Acting Program into a Sports Entertainment, Audience Engagement & Amplification Program! where rather than trying to teach students to Act Out a Character we now have them Amplify their own Character allowing them to Engage the  Audience in a much more Organic & Natural Way!
New Camps Start Every Month!
Our 12-Week Professional Wrestling Training Program:​
What you will be learning over your 12 weeks of training with our Instructors.
KEEPING YOUR HEAD IN THE GAME: THE PSYCHOLOGICAL ASPECT OF WRESTLING
Because of the one-on-one nature of wrestling and the relatively brief length of a match, the mental approach to competition and the commitment you need to succeed are unique. The following list provides some keys to winning the mental game as a wrestler:
3 Month Pro Wrestling Program Pricing
Registration Fee:

$500.00

3 Month Pro Wrestling Program:

$2,500.00

3 Month Gym Membership:

Free

WFPC T-Shirt:

Free

Sub-Total:
Fully Furnished Housing Facility Includes (Optional):

1500+ Channel IPTV Box
Bedroom, Bed & Sheets
Dresser, Desk & Lamp
In-Suite Laundry
Game Console
Unlimited Wifi
Free Pay-Per-View

1st Month: $700.00 2nd Month: $700.00 3rd Month: $700.00

Total Cost:
Payment Plans Available Upon Request & Based on Financial Need & Approval. Please Contact The Registration Office for More Information at: 587-973-0202