12-Week Pro Wrestling Training Program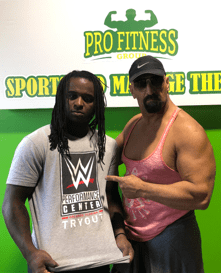 The WFPC is not a facility that will teach you meaningless Spots, Locks & Holds and send you on your way. The WFPC prides itself on enriching students with a sports entertainers understanding along with the skill set and ability to perform in front of a live & televised audience.
It is widely known that many of our students actually perform live events before they complete the program, this is truly a remarkable thing in our industry, and we hope to share our knowledge and experience with you as you embark on this amazing journey into the exciting world of Pro Wrestling & Sports Entertainment!
Our 12-Week Professional Wrestling Training Program:​
What you will be learning over your 12 weeks of training with our Instructors.
KEEPING YOUR HEAD IN THE GAME: THE PSYCHOLOGICAL ASPECT OF WRESTLING
Because of the one-on-one nature of wrestling and the relatively brief length of a match, the mental approach to competition and the commitment you need to succeed are unique. The following list provides some keys to winning the mental game as a wrestler:
3 Month Pro Wrestling Program Pricing
Registration Fee:

$500.00

3 Month Pro Wrestling Program:

$2,500.00

3 Month Gym Membership:

Free

WFPC T-Shirt:

Free

Sub-Total:

Fully Furnished Housing Facility Includes (Optional):

1500+ Channel IPTV Box
Bedroom, Bed & Sheets
Dresser, Desk & Lamp
In-Suite Laundry
Game Console
Unlimited Wifi
Free Pay-Per-View

1st Month: $600.00
2nd Month: $600.00
3rd Month: $600.00

Total Cost:
Payment Plans Available Upon Request & Based on Financial Need & Approval. Please Contact The Registration Office for More Information at: 587-973-020–