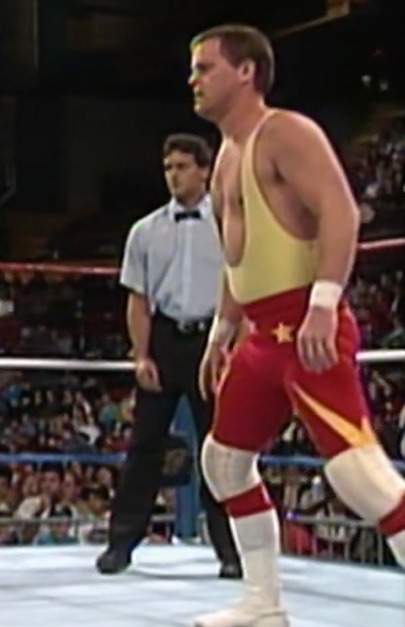 Steve "Dr. Hannibal" Gillespie
Steve Gillespie is a Calgary-born and bred retired pro wrestler who was trained exclusively in the infamous Hart Dungeon. His career kicked off with Stampede Wrestling. In 1990, Steve Co-founded Can-Am Wrestling with Otto "Vinnie Fever" Gentile. The promotion toured extensively across Canada for 11-Years.
Steve is one of the better-known and well respected international Independent wrestlers who worked all over the world during his career. He has wrestled for such promotions as CNWA, TCW, CAWF, River City Wrestling, Onita Pro, N.W.A., Frontier Martial-Arts Pro Wrestling in Japan & the WWF/E, among many others. He has done tours throughout England, Germany, Lebanon, India & Over 106 Tours in Japan.
Training
Steve was trained at the Legendary Hart Dungeon with 99 other students and was only 1 of 2 students from that camp to graduate. 
Over the years Steve has trained 9 World Champions including Lance Storm, Chris Jericho, Black Bart, Randy Rudd, Vinnie Fever, Black Dragon, Johnny Coaltrain & Michael Myers just to mention a few.
Amateur Wrestling Career
Steve was one of Canada's most decorated Amateur Wrestlers with 14 City, 14 Provincial & 6 Canadian Championships to his credit, even defeating our dear friend and fallen soldier Owen Hart.
16 World Titles
World Junior Heavyweight Championship NWA (1 Time)

Rocky Mountain Tag Team Championship (3 Times)

Rocky Mountain Junior Heavyweight Championship (2 Times)

FUW Japan Tag Team Championship (2 Times)

Can-Am Middleweight Championship (3 Times)

SS Squad Tag Team Championship (5 Times)
Train With Harts & Legends
Leo " The Legend" Burke
Psychology Coach
Otto "Vinnie Fever" Gentile
In Ring Handler
Torrin Rex Hart
Amateur Wrestling Coach
The Beast From The Middle East, The Man They Hale "Ali"
Showmanship & Intensity Coach
Queen Elizabeth
Nutritionist & Personal Trainer
Steve "Dr. Hannibal" Gillespie
Chain Wrestling Coach