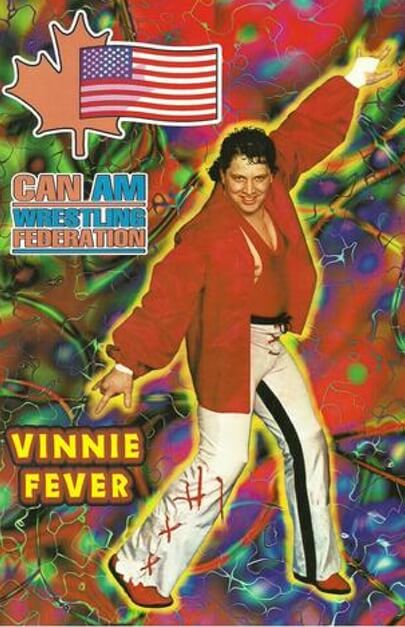 Otto "Vinnie Fever" Gentile
Best known as Can-Am Wrestling's "Vinnie Fever", Otto has been Wrestling & Promoting for Over 30 Years. Trained by Steve "Dr Hannibal" Gillespie, he has worked for many Canadian Independent Wrestling Promotions such as ECCW, CWF, UWN & the NWA.
In 1996, Otto "Vinnie Fever" Gentile Co-Founded Can-Am Wrestling Federation with Steve "Dr Hannible" Gillespie and went on to win several titles with the various promotion including Can-Am Commonwealth Championship & Can-Am Heavyweight Championship Titles. He also held the Can-Am Tag Team Championship Title alongside partner Keith Hart & the Ultimate Wrestling Nation Heavyweight Champion of the World.
Otto's wealth of knowledge, love for the sport and dedication to the success of our students makes him an invaluable addition to the Pro Fitness Wrestling Academy Team.
Otto has wrestled well known superstars such as NJPW Japanese Legends Leather Face & Juggernaut, WWE/WCW's Lance Storm, AEW/WWE & WCW's Chris Jericho, WWE 2nd Razor Ramon, WWE's Kurgan, Stampede Wrestling's Cuban Assassin & WWF & Impact Wrestling's "The Great" Gama Singh.
Bodybuilding  
        1991 Southern Alberta 2nd Place
        1991 Alberta's 8th Place
Magazine
        Co Editor Can-Am Wrestling Magazine
Drug & Alcohol Work Shops
        Keynote Speaker for Over 2,000 Can-Am (Constantly Against Narcotic & Alcohol Misuse) Youth Workshops across Canada
Titles
        Can-Am Mid Heavyweight Championship (1997)
        Can-Am Heavyweight Champion (1998)
        Can-Am Tag Team Champion (1998) with Keith Hart
        Can-Am Commonwealth Champion (1999-2000)
        UWN Heavyweight Champion of the World (2008)