Amateur Wrestling Program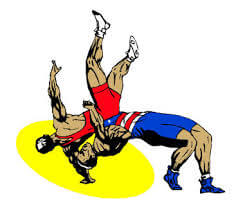 Amateur Wrestling is the most widespread form of sport wrestling. There are two international wrestling styles performed in the Olympic Games: freestyle & Greco-Roman. Both styles are under the supervision of United World Wrestling (UWW; formerly known as FILA, from the French acronym for International Federation of Associated Wrestling Styles). A similar style, commonly called collegiate (also known as Scholastic or Folkstyle), is practiced in colleges and universities, secondary schools, middle schools, and among younger age groups in the United States.
Where the style is not specified, this article refers to the international styles of competition on a mat. In February 2013, the International Olympic Committee (IOC) voted to remove the sport from the 2020 Summer Olympics onwards. On 8 September 2013, the IOC announced that wrestling would return to the Summer Olympics in 2020. The rapid rise in the popularity of the combat sport mixed martial arts (MMA) has increased interest in amateur wrestling due to its effectiveness in the sport and it is considered a core discipline.
In the international styles, the format is now two three-minute periods. A wrestler wins the match when they were able to get more points than their opponent or 10 points lead in two rounds. For example, if one competitor get 10–0 lead in first the period, they will win by superiority of points. Only a fall, injury default, or disqualification terminates the match; all other modes of victory result only in period termination. 
This format replaced the old format of three two-minute periods played best two out of three. One side effect of the old format was that it was possible for the losing wrestler to outscore the winner. For example, periods may be scored 3–2, 0–4, 1–0, leading to a total score of 4–6 but a win for the wrestler scoring fewer points. 
In collegiate wrestling, the period structure is different. A college match consists of one three-minute period, followed by two two-minute periods, with an overtime round if necessary. A high school match typically consists of three two-minute periods, with an overtime round if necessary. Under the standard rules for collegiate wrestling, draws are not possible; this rule is sometimes modified for young wrestlers. 
Victory Conditions in the International Styles
A match can be won in the following ways:
Amateur wrestling is a positionally-based form of grappling, and thus generally prohibits the following:
While there is not much equipment that a wrestler wears, it is still highly specialized. A warestling singlet is a one-piece, tight-fitting, coloured, lycra uniform. The uniform is tight-fitting so as not to get grasped accidentally by the opponent and allows the referee to see each wrestler's body clearly when awarding points or a pin. Women wrestlers wear a higher cut singlet usually with a sports-bra underneath. 
Wrestling shoes are light, flexible, thin-soled, ankle-high sneakers that allow maximum speed and traction on the mat without giving up ankle support. The current rules call for laces (if any) to be covered so that they do not come untied during competition. 
In American high school and college wrestling headgear is mandatory to protect the ears from cauliflower ear and other injuries. Headgear is made from molded plastic polymer or vinyl coated energy absorbing foam over a rigid hard liner and strapped to the head tightly. In the international styles headgear is optional.
Wrestling is conducted on a padded mat that must have excellent shock absorption, tear resistance, and compression qualities. Most mats are made of PVC rubber nitrile foam. Recent advances in technology have brought about new mats made using closed cell, cross-linked polyethylene foam covered in vinyl backed with non-woven polyester.